Water Hyper-action
Enjoying the sea in Mykonos can go far and beyond swimming, sailing or diving. And Wateraction (www.wateraction.gr) is there, at Agrari beach, to show you into the exreme world of water sports! You only need to choose you water toy to spend a few minutes or an entire day going fast, over and under and learning to be free all over again...
1) Jetski: specially trained instructors will teach you how to operate the vehicle and inform you about the necessary safety procedures and then, the stage – or. rather, the surface – is all yours!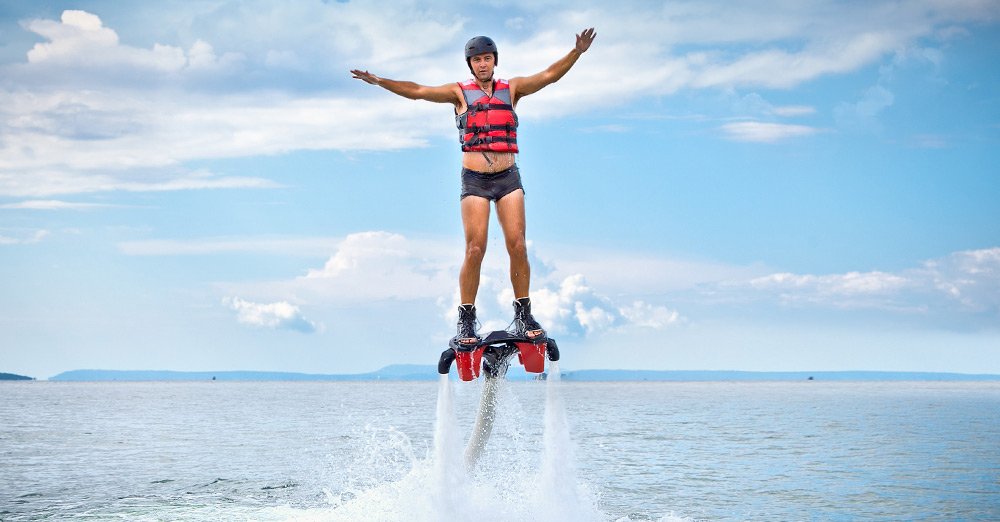 2) Flyboard: the latest craze of the seas, this magnificent gizmo opens the senses into a whole new world, allowing you to defy gravity, moving from underwater to above the water.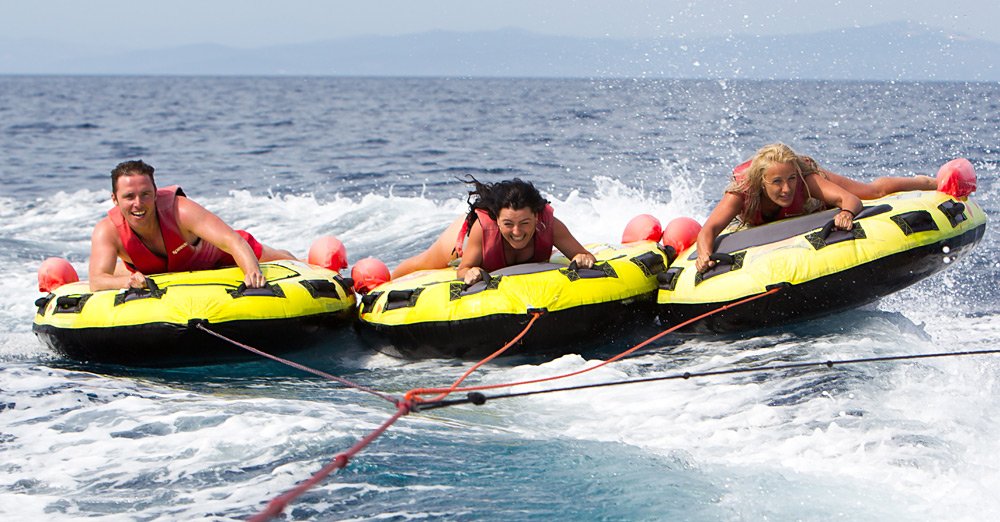 3) Tubes: categorized as an 'extreme' sport, because of the speed and technique one must master to stay on the rings, it is the most fun challenge you'll ever have amongst friends.
4) Sofa: share the fun with your family and friends, in a more relaxed, safe but equally enjoyable way suitable for all.
5) Parasailing: harness the sea and air at the same time, for a real flight experience hanging high above the deep blue, after a short training session. It's the best panoramic view you can get!
Vintage sailing
It was an old merchant ship, a traditional Aegean Sea hull built in 1948, which had gone through many hardships and rough seas. Fifty years after its maiden voyage, Phoebus (www.phoebus.gr) went back out into the sea again. It had taken artist and decorator Zannis Koukas 6 whole years to restore it, maintaining its original beauty and charm and highlighting its unique identity.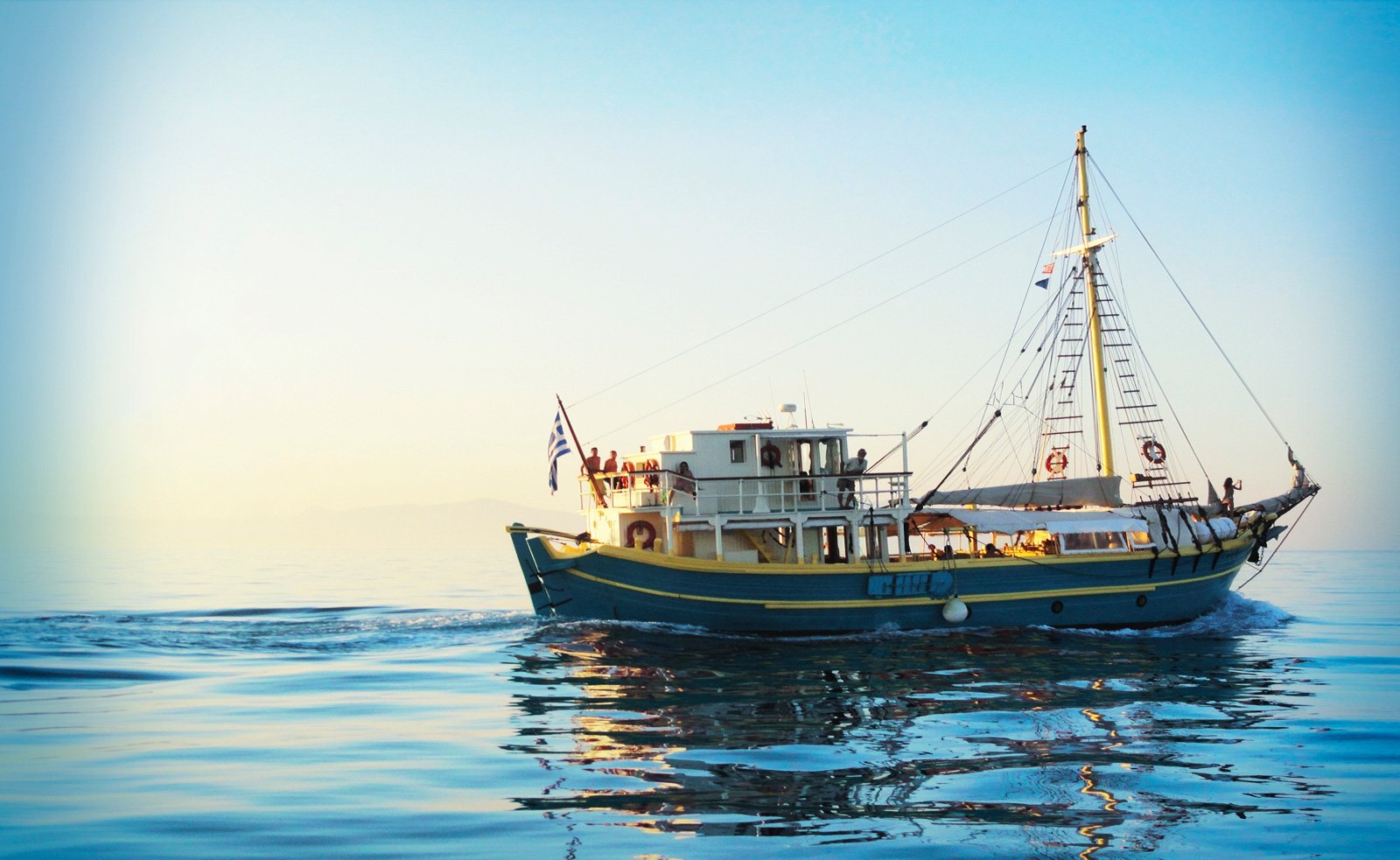 The 21,6m long, 15m high beamed, open deck contemporary Phoebus is a luxury cruise ship fully equipped with two open bars, a dining and a lounging deck, catering for any special circumstance. This traditional wooden caique-turned-motorsail can take you to small ports, deserted beaches, nearby islands (Delos, Tinos, Paros, Rhenia) and is ideal for beach-hopping or wed-partying in style.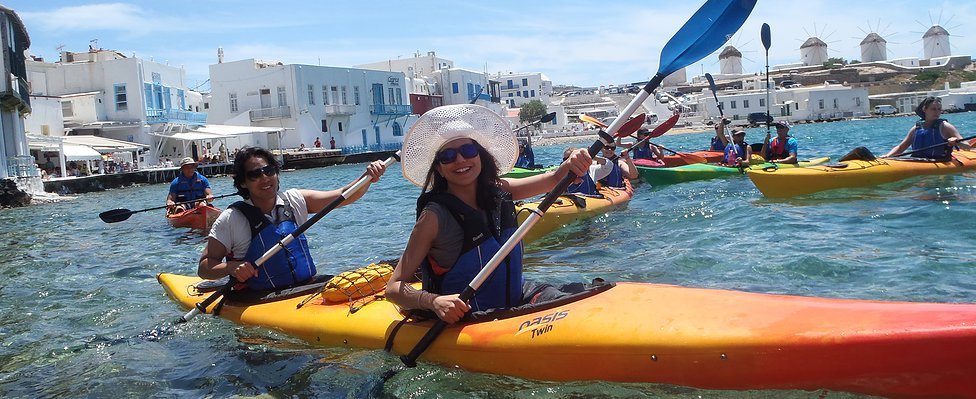 Peddle through
For those looking for a more active -albeit educational- way to spend their holidays, Kayak Day Tours (www.mykonoskayak.com) offer a variety of daily excursions, keeping you fit and aware of Mykonos' fabulous scenery. Visit tucked away sights and turqoise coasts and learn more about the island's flora and fauna, while getting off the beaten track.
No previous kayaking experience is required, since the routes are designed to cater for all levels of experience and ability. Just bring your swimsuit, T-shirt, shorts, towel, paddle shoes and plenty of sunblock and get ready to be introduced to a fun and environmentaly friendly sport, always in a safe manner. A different trip in on offer each day, for groups of up to 16 people, led by experienced local guides. A healthy snac, a delicious picnic lunch and free photos from the day's activities are included in the price!

YOU CAN SEE THE VACATION GUIDE FOR #MYCONOS
CLICK BELOW